By DAN BOLLES @DANBOLLES, RACHEL ELIZABETH JONES @RATBABYJONES, KEN PICARD, ELIZABETH M. SEYLER and SADIE WILLIAMS
Not so long ago, tattoos were primarily the provenance of the rough-and-tumble crowd — think convicts and sailors and punks. But, increasingly, indelible ink is as likely to be found on the forearms, ankles or lower backs of lawyers and accountants as on your average biker, basketball player or barfly. A 2015 Harris Poll found that nearly 30 percent of American adults have at least one tattoo. That's up from 21 percent in 2012 and just 16 percent in 2003.
It's not surprising that millennials are leading the branding boom. Almost half of Americans ages 18 to 35 have ink, compared to 36 percent of Gen Xers and 13 percent of baby boomers. Your granddad's anchor tat from the Navy makes him the one in 10 of elders with eternal epidermal emblems.
Once a symbol of rebellion, tattoos have become mainstream. At the risk of cynicism, it's fair to wonder if not having a tattoo might soon be considered as much a statement as whatever that Chinese character on your shoulder means.
Just as the populations getting tattoos are changing, so are tattoo artists. That is, they're not all guys anymore. Hard numbers are tough to come by, since licensing varies by state and few states track licensees by gender. But, at least anecdotally, more women are gravitating toward the industry. Female artists are now common at tattoo shops around Vermont, and some of those shops are women-owned. Given that women are statistically more likely than men to have tattoos — 31 percent of women, compared to 27 percent of men, per the Harris Poll — some gender balance in the biz is long overdue.
For this story, Seven Days visited four Vermont tattoo shops owned or co-owned by women. We checked out Meredith Muse's mystical home-based studio, Shady Lady Tattoo Parlour, in Moretown. At Contour Studios in Newport, we chatted up three hometown heroes who are trying to make their city a better place, one tattoo at a time. In St. Albans, the ladies at Luminary Ink Tattoos, Body Piercing & Permanent Cosmetics sting the body electric with an astral flair. And in Barre, Rock City Tattoo's Lila Rees puts a piece of her mind into every piece of art on her clients' skin.
Lights for Each Other
Luminary Ink Tattoos, Body Piercing & Permanent Cosmetics in St. Albans has a celestial feel. The wrought-iron benches, plants, high ceilings and soft jazz music impart a soothing air more common to a spa or salon. The display case full of earrings might indicate a store, the padded tables a massage studio. But the wall-size mural of the Orion Nebula is, surprisingly, key to understanding this universe.
"I wanted to bring the outside inside," says Luminary owner Sara King. Her goal for the shop, she explains, was to create "an inspirational space for people to relax in and a safe place where their ideas about body art were respected." The mural serves as a backdrop for photographs of completed tattoos and a reminder of what she calls "the intuitive nature we all have as lights for each other."
click to enlarge
King, 52, and her three employees pride themselves on treating clients well and putting them at ease. Ryann Schofield, 32, has been a tattoo artist for five years and has worked with King for the past three. "I make sure to communicate very carefully about what people want and how they want it," she says.
King's 30-year-old daughter, Nina King, is the shop's body-piercing specialist. Mary Frances Wrixon, 25, is King's tattoo apprentice.
Sitting in the shop after hours, Sara King recounts the moment she decided to become a tattoo artist.
"I had gone through a series of tragedies," she says, echoing the reason many people choose to get tattoos — divorce, death, profound life changes. "Returning to painting and drawing helped me recover from depression."
click to enlarge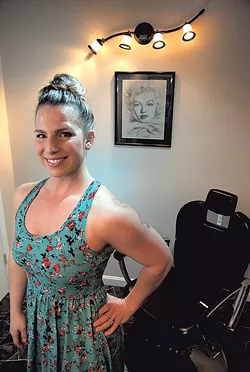 The day she decided to look for a job in the arts, she found an opening at a new tattoo studio. Chris Bijolle of Tribal Eye Tattoo (now Sacred Sparrow Tattoo) took her on as an apprentice in 2003, and the rest is herstory.*
Being the only woman in a male-dominated industry "sure wasn't easy," says King. But she was licensed by 2004 and opened her own shop, Sara's Tattoo Parlor, in 2005. At the time, she estimated that she was only the seventh female tattooist in the state.
In 2015, King moved the business to its current location, added body piercing and permanent cosmetics, and changed its name. She is certified in tattooed makeup, which requires specialized training.
"About 10 percent of our clients are interested in eyeliner or eyebrows," she says. King
also provides areola and nipple restoration for breast cancer survivors.
click to enlarge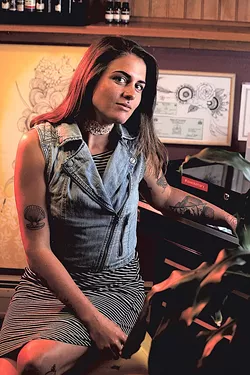 Those services attract more women than men, but Luminary advertises itself as gender-neutral and caters to all (legal) ages. It's also a custom shop: King and Schofield create original designs for clients, including hand drawing, rather than relying on preprinted flash art.
"We can follow the body's contours," says Schofield, "accentuating or hiding what people want."
Getting tattooed is an intimate and sometimes painful experience. With that pain comes the body's natural response: a kick of adrenaline, then pain-relieving endorphins. Studies have shown that these chemicals can create an emotional high or sense of euphoria.
"We can see it," confirms King. "[Clients are] very tense, and they're talking a lot. And then all of a sudden they mellow out and get quiet and relax, and they aren't hyper or nervous anymore."
click to enlarge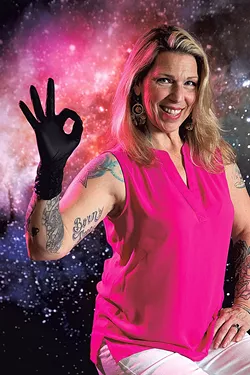 While this response helps clients endure tattooing, it can create problems for those who don't understand the physiology of what's happening. "We get men who come back who feel connected to us," says Schofield.
"They think we're interested in them," explains King. "You're causing them pain, and you're helping them get through it."
This confluence of chemicals and intimacy requires that the artists set clear boundaries and "stay humble," says Schofield.
So, how many tattoos do these women have?
"We're at body percentage, not numbers," says King, estimating that 30 to 40 percent of her body is tattooed.
"I'm at about 10 percent," says Schofield. "But I have time."